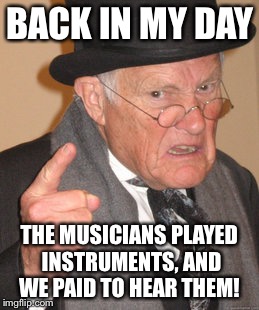 When one thinks of a Catfish it's usually someone who's created a fake online profile to ultimately catch their unsuspecting prey in attempt to achieve a romantic relationship. Well in the entertainment world, more specifically with regards to music, this
new breed of artist / booker / promoter
are what seem to be catfish of a different variety but virtually with the same ugly principles.
As most of you know I've been in the music industry in different capacities for many years and have seen many changes, however with regards to the urban music market unfortunately things have not made much positive movement as it really should have by now. This year especially I've come across so many
fraudulent artists turned booker, venue owners, bookers, A&R's etc
it would make your head spin! I've practically become a P.I. with all the research and fact checking I've had to do over these past few months with making sure I don't affiliate myself and brand with anymore fraudulent entities!
It's one thing when a low down venue owner who only cares about his bottom line (which is filling his spot with people who'll buy drinks so he gets paid and not the musicians who are providing the actual entertainment), but when a fellow artist, someone who has once too been cheated in some capacity, turns around and not only does the exact same thing to others, they also have the nerve to state that
"this is how it works in the urban markets"
and musicians need to
"invest"
in their careers. Now we all know actual investments usually give you a decent return and if it's looking like things are going left you can easily pull out and move on. In these situations though unfortunately,
they want you to invest
not only your time and energy, but also
your own funds and essentially not be paid for any of your efforts!
Apparently this is the new musician "investment plan." It's straight up disgusting and no one seems to be doing anything to really change this dynamic. Most now just throw up their hands and some don't even continue on with their careers. With spirits crushed, their drives go with it.
The latest case of these
"Fraud Allergies"
comes courtesy of a US promotion company that also does some shows here in Canada as well. They are not only using "major label reps" to lure artists through, but also legendary venues such as
The Hard Rock
Cafe
who are allowing this ridiculousness to continue. One artist who's also not new to the game had an encounter with this company and posted his complaint check it out here:
http://www.ripoffreport.com/r/KING-RYAN-EVENTS/Select-StateProvince/KING-RYAN-EVENTS-LIVE-MUSIC-SHOWCASE-SCAM-ARTISTS-FOR-MONEY-NOT-FOR-AN-ARTIST-TRYING-T-1126694
I just recently learned that a next promotion company, apparently when they get called out by musicians that unsuspectedly decide to work with them, have not only threatened them but also their families. WTF this is seriously outrageous and has become a very serious situation. With more and more unknown to known acts leaving the region to pursue their dreams, giving up on their own city changing their ways, while known acts come back to become ambassadors of sports teams and open up restaurants, the situation has gone from serious to critical and statistically for females in this market it's 20x worse (I'm just saying).
Personally I always try to make sure to inform my fellow artists and bring awareness as much as I can. I will always get artists here and there contacting me to get my opinion on various people / companies in the industry and I'm always humbled and thankful my opinion is so respected. This year though I've also been contacted by artists I haven't had the pleasure to meet or work with. In these cases my reputation has proceeded me and I am so blessed to be given the ability to help others with my knowledge and insight.
We never know what the future will bring. For now stay tuned for upcoming show dates please continue to support legit urban music vibes cus
Counterfeit Ain't Legit!
Also please enjoy my latest release
C.A.K.E.
available on iTunes + HMV Oct. 21st! Cus there's always room for CAKE =D